Jurassic Coast business projects defended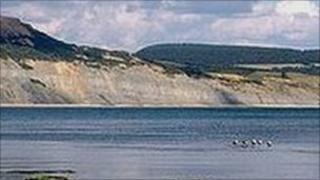 The head of the body set up after the award of World Heritage Site status to areas of east Devon has defended it against claims that business has failed to benefit.
Up to £7m was originally pledged to the Jurassic Coast project but only £2m has ever been spent in the 10 years since its creation.
The South West Regional Development Agency (Swrda) which controlled the funds will disappear by March 2012 under government cuts.
Mark Seward, president of Sidmouth Hoteliers Association, said the award of World Heritage Status had been "great news for tourism" and that many people had seen it as "something to take us to the next generation".
"Sadly although there is an awful lot of great work being done, I don't know that it's joined up, I don't know if we've made the full advantage of having a World Heritage Site on our doorstep," he said.
Mr Seward said that for many it was "difficult to see where those millions have gone".
Richard Eley, who chairs Sidmouth Chamber of Commerce, said the Jurassic Coast Quality Business Scheme, which was set up at a cost of £260,000, had been "ill-conceived from the outset".
Visitor centres
He called on future investment projects to be "handled more thoughtfully".
Dr Sam Rose, of the Jurassic Coast World Heritage team, said a report in 2008 had shown more than 90% of tourism businesses surveyed thought the award of World Heritage Site status had had a positive impact, while 75% thought tourism numbers had increased.
Speaking to BBC Radio Devon, Dr Rose admitted there had been difficulties "engaging some businesses" in east Devon and the future challenge was to find "clever ways of getting teams involved".
The original plans included designs for visitor centres in Exmouth and Seaton in Devon.
Dr Rose praised the efforts of community groups and local authorities whose efforts had been undermined by the economic cutbacks.
"In 2009 when Swrda faced financial difficulties they turned round and said any projects where contracts hadn't been signed were not going to be able to receive that money."
He added: "The community groups in Seaton and Exmouth worked as hard as they could to develop these projects but unfortunately it just wasn't enough in time to be able to develop them."