Okehampton dairy confirmed to close in April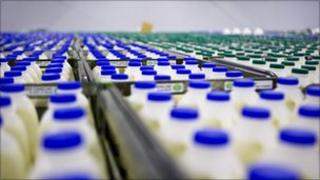 Dairy firm Robert Wiseman has confirmed it is closing its plant at Okehampton in Devon with the loss of 67 jobs.
The firm is switching operations in April to a new larger plant, about 60 miles away at Bridgwater, Somerset.
It said the Okehampton plant was too costly to run and the investment required to modernise it was too high.
Robert Wiseman, one of the largest dairy firms in the UK, said it would support staff wanting to be redeployed to other plants including Bridgwater.
Martyn Mulcahy, group operations director, said: "Despite exhaustive efforts by staff, management and unions to find ways of bringing costs into line with dairies elsewhere in our network, we have been unable to establish an economic basis for continuing to process milk at Okehampton.
"We very much regret the impact that this decision will have on the area and will provide assistance to those who will be affected.
"It is our hope that some staff at Okehampton might consider taking up positions available elsewhere in our network of dairy and distribution facilities and we will provide support should staff wish to take up this option."
The company also has distribution depots at Pensilva, Bristol, Amesbury and Northampton.
Okehampton has also been hit by the collapse of desserts firm Polestar in February.