Flybe aeroplane wheel comes off in Exeter take-off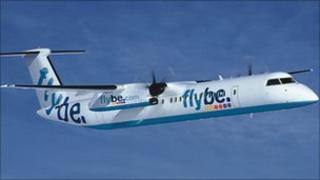 A Flybe plane was forced to make an emergency landing at Exeter Airport after a wheel fell off.
The Flybe Bombardier Q400 took off from Exeter International Airport bound for Newcastle at 1225 GMT with 39 passengers and four crew on board.
A wheel detached shortly after take-off, forcing the plane to circle for about 90 minutes before landing.
No-one was injured, and the UK Air Accidents Investigation Branch is investigating.
A Flybe spokesman said: "The Q400 aircraft was operating a flight from Exeter to Newcastle with 39 passengers and four crew on board when, on retraction, one of the wheels detached itself on to the runway.
"The aircraft landed safely without further incident; all passengers left the aircraft as normal by means of the aircraft steps.
"The safety of its passengers and crew is Flybe's number one priority.
"Flybe operates the world's largest fleet of Q400 with 58 aircraft with an average age of 4.1 years that safely operate over 100,000 flights a year."
Passengers were put on a later flight which landed safely at Newcastle.