Scrapping HMS Cumberland 'will save £60m'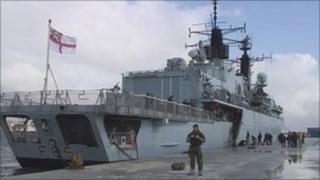 Scrapping a Plymouth-based Royal Navy ship which has been rescuing people from Libya will save about £60m a year, the government has said.
HMS Cumberland was on its way back to Britain to be decommissioned when it was diverted to the Mediterranean.
The Type 22 frigate, which costs £16m a year to run, docked in Benghazi to rescue Britons and other nationals.
Junior Defence Minister Peter Luff told MPs scrapping Cumberland and its three sister ships would save £240m in total.
Mr Luff, who was answering written Parliamentary questions from Shadow Defence Secretary Jim Murphy, said the savings included overheads and other costs relating to the operation of a class of ship.
He said: "Therefore, the precise savings arising from the withdrawal of an individual ship are not separately identifiable.
"The total savings from withdrawing all four ships are estimated at some £240m across the comprehensive spending review period."
However, Mr Luff was unable to say how much it would cost to maintain the Cumberland after she was decommissioned.
About 50 British people and 150 foreign nationals were taken to Malta on HMS Cumberland in its evacuation effort from Libya.
An 18-month refit of the 486ft (148m) long vessel, which has a crew of 260, was completed in 2008.