Royal William Yard could be transferred for £1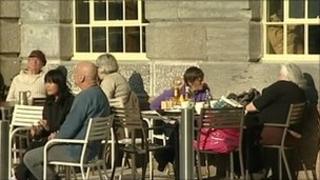 Two parcels of ex-military land in Plymouth could be transferred by South West Regional Development Agency for as little as £1, the BBC has learned.
The RDA has put millions of pounds of public money into the 18-acre Royal William Yard at Stonehouse and the 100-acre International Business Park.
But the RDA is to close in March 2012 and it wants someone to be a custodian of the regeneration.
The final decision will rest with the Department for Business.
Royal William Yard was handed to the RDA by the publicly-owned Plymouth Development Corporation in 1999.
The RDA spent more than £25m renovating roads and the exterior of the listed buildings before developer Urban Splash spent £50m creating flats a cafe and bar and an arts centre.
The transfer will be for the freehold of the land which Urban Splash is to take possession of on completion of the development.
Plymouth International Business Park on the site of the former Seaton Barracks is 40% occupied by businesses.
'Enormous liability'
Plymouth City Council is showing some interest in the sites which it confirmed were being offered together for a nominal sum, possibly as low as £1, and a paper is being prepared for the cabinet.
The RDA, which lists the properties in its plans for transition and closure, declined to confirm the figure.
It said: "By transferring our assets to appropriate successor bodies we can help ensure that a majority of these benefits are realised for the region and that we secure value for money for the public purse."
Charles Howeson of the Plymouth Area Business Council said any buyer would be responsible for the repair and running costs of the property which could be significant at the Grade 1 listed Royal William Yard.
He said: "This has to be looked at very carefully.
"A capital present for £1 can often represent an enormous revenue liability."