Browne's Chocolates in Okehampton closes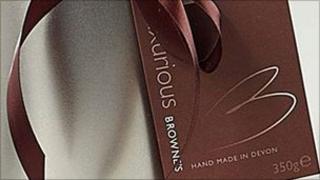 A chocolate company in the north Devon town of Okehampton has closed with the loss of about 20 jobs.
Managers at Browne's Chocolates told staff earlier that the firm had been put into the hands of administrators and told them to go home.
The firm, which supplies Harrods, has been been in the town since 1993.
Okehampton has also been hit by the loss of 232 jobs at desserts firm Polestar, while 67 jobs are to go when Robert Wiseman dairy closes in April.
No-one was available for comment from Browne's.
Town councillor Christine Marsh said: "We are holding our breath and hoping there won't be any more jobs lost in Okehampton."
Tim Jones, chair of Devon and Cornwall Business Council, said: "The community is already reeling and it is quite literally a body blow.
"The effect will be profound."