Okehampton redundancies spark rise in food bank demand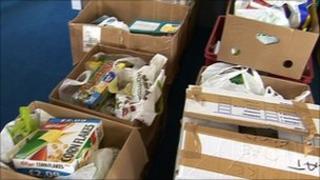 A food bank in a Devon town hit by redundancies in recent weeks said it has seen a "huge" rise in demand.
More than 300 people have lost their jobs in Okehampton - 232 at desserts firm Polestar, 67 at the Robert Wiseman dairy and 20 at Browne's Chocolates.
The Okehampton Baptist Church food bank has gone from providing one or two parcels to between 40 and 50 a week.
"Every aspect of the food bank has changed in the past four weeks," the Reverend Barry Walton told BBC News.
The retired minister said as the need to provide food parcels increases, the need for donations and money to buy fresh produce also goes up.
'Body blow'
"I think we talk quite glibly about 'the knock-on effect', but we don't actually realise to what extent that takes place," the Rev Walton said.
"It's not just affecting employees - it's affecting all the people they used to spend their money with."
Ruth Kelsey has been donating fresh vegetables to the food bank from her farm shop in Okehampton.
One of the only good things to come out of the three factory closures, she said, was local people pulling together.
"I feel like part of the community and I just want to help out," she said.
"It's an important part of people's diets to have fresh vegetables and I thought I could help with that.
"Okehampton is a relatively small town and people feel genuinely concerned for each other."
Husband and wife Mary and Nick Wonnacott, who both worked for Polestar for more than 15 years before losing their jobs, said the food bank had been a "godsend" without which they could not have managed.
"We've had four weeks where we've had to manage with no income at all, so this has been a wonderful boon for us," Mrs Wonnacott said.
Tim Jones, chair of Devon and Cornwall Business Council, has described the factory closures as a "body blow" which would have a profound effect in Okehampton.
Polestar has been bought by Devonshire Desserts, but it is not known how many people will get their jobs back if and when the factory goes back into production.