Speaker's State Coach displayed at Arlington Court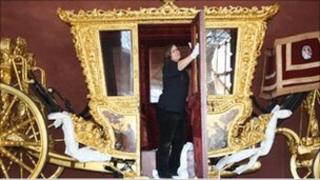 An ornately gilded 17th Century state carriage is to go on display at a National Trust property in Devon.
The Speaker's State Coach has been loaned to Arlington Court's carriage museum by the House of Commons.
The parliamentary coach was originally made in 1698 for William III and was later presented to the Speaker of the House by Queen Anne.
It was last used by Speaker Thomas in 1981 for the wedding of Prince Charles and Lady Diana Spencer.
After the wedding, the coach was displayed at various venues in London before restoration and conservation work was carried out.
That work has now been completed and the coach will be be on display with Arlington's collection of historic British carriages and coaches.
Ana Chylak, National Trust property manager, said: "Our historic carriages at Arlington range from those used every day to ones reserved for special occasions, so we are thrilled to be able to display the Speaker's State Coach which is very special indeed.
"In its restored condition, its detail and decoration are absolutely breathtaking."
The coach has small plaques bearing the coats of arms of various speakers.
The current Speaker of the House, John Bercow, said the coach was an important piece of the UK's parliamentary heritage and he was delighted it would be in the care of the National Trust and viewed by as wide an audience as possible.
"The carriage museum at Arlington Court, with its extensive collection, was an obvious place for the coach," Mr Bercow said.
"We hope it will be the first of a series of appropriate exhibition venues around the country where the coach might be seen and enjoyed by the public."
The coach will go on display at Arlington Court from 12 March.