Centre for injured service personnel opened in Devon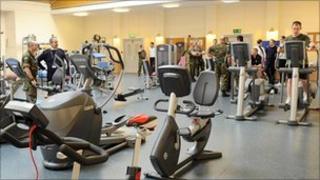 A new accommodation and rehabilitation centre for injured service personnel has opened at Devonport Naval Base, in Plymouth.
The 12-bed block has been built for those with limited mobility.
The recovery unit will provide physical, medical and psychological rehabilitation for personnel, many of whom have lost limbs in Afghanistan.
In 2012, they will be moved into a £22m specialist unit which is being built at the naval base.
Tristan Sykes, 30, lost a leg while he was serving in Afghanistan.
He said: "The accommodation is some of the best I have lived in.
"The best features are the single straight corridor, ground floor rooms, and an en-suite shower where you can sit-down."
The personnel who are moving into the accommodation were previously living in Headley Court rehabilitation hospital in Birmingham.
Vice Admiral Charles Montgomery, who officially opened the building, said: "They have shown exceptional determination, resilience and bravery. They are an inspiration to us all."
The building will be replaced by a 72-bed unit in 2012 to meet increased demand by personnel for rehabilitation.