Plymouth City Council confirms 10% staff cuts plan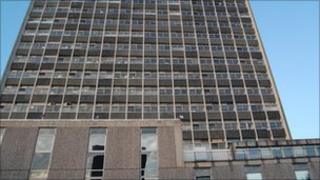 Plymouth City Council has confirmed plans to cut its central workforce by 10% over three years.
As well as cutting 500 posts, it is also proposing changes to employees' terms and conditions.
The measures are aimed at reducing the cost of the 5,000-strong workforce by £18m over three years.
Terry Keefe, from the Unite union, said some of the poorest-paid council employees would be the worst affected.
The council said it hoped to make the job cuts through "natural turnover" and a voluntary scheme but said redundancies could not be "ruled out".
The proposals follow talks with trade unions and union members are being balloted over the next few weeks.
The measures include changes to overtime arrangements, reducing long-service leave entitlements and changing the expenses system.
'Front-line services'
Mr Keefe said: "The proposals are not ideal but they are the best we could get.
"Some of the poorest-paid people in the council will be the worst affected with up to 20% less take-home pay."
Stuart Fegan, from the GMB union, said: "It's up to our members to decide whether what's being proposed is fair and reasonable.
"There is a clear impact on those in front-line services like refuse collection and parks and on staff working unsociable hours.
"We won't be able to reach an agreement with the council unless our members vote in favour of it."
The Conservative-run council said there would be no changes to basic pay, working hours or sick pay.
It said the changes affected about 5,000 people centrally employed by the council and would include some staff working in schools.
Councillor Ian Bowyer, cabinet member for finance, property, people and governance, said: "We have kept vacancies open for longer, challenged the need to recruit, improved redeployment and reduced significantly the use of agency and consultancy within the council.
"This has minimised the need for large-scale job cuts. However, we do need to modernise how we work.
"The terms and conditions and working practices are key to reducing the overheads within the council and achieving these savings."