Plymouth teacher on sex charges 'assaulted boy on trip'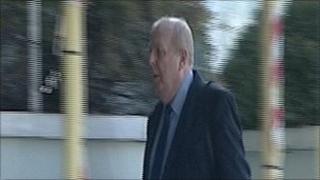 A former pupil at a Plymouth primary school has described a sex assault by an ex-teacher facing 28 charges of indecent assault.
Neil Dyer, 71, from Plymouth, has denied the charges which relate to the period between 1979 and 1992.
The witness said he felt frightened by the assault which is alleged to have been carried out by the former Widey Court Primary School head teacher.
Plymouth Crown Court has heard he ruled the school with a "rod of iron".
The witness told the court he was sexually assaulted on two occasions, once in the classroom and once while on school camp.
The court heard from another witness who said he was too frightened to resist and just "froze".
Mr Dyer, who was then known as Geoffrey Burley, was promoted to deputy head and then head teacher and was described as having a reputation as a stern disciplinarian.
The case continues.