Soldier killed by Nato-issue gun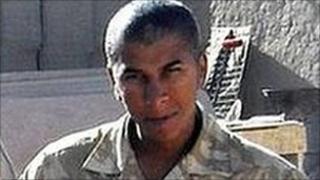 A soldier shot dead in Afghanistan was killed with a type of weapon used by British forces, an inquest heard.
Rifleman Carlo Apolis, who lived in Exeter before joining the Army, was hit as he provided cover for engineers defusing IEDs in Sangin.
The inquest heard he was killed by a Nato-issue gun but tests showed British forces did not fire the fatal rounds.
A verdict of unlawful killing while on active service with A Company 4 Rifles was recorded at the Wiltshire inquest.
Capt Philip Floyd, from the Army's Special Investigation Branch, told the inquest it was possible insurgents had obtained British and US weapons.
"I am of the opinion that it was not friendly fire," he said.
"Without going into details, there have been occasions of weapons, and a weapon of this nature, being recovered."
David Ridley, the Coroner for Wiltshire and Swindon, said he was "satisfied beyond reasonable doubt that the shot that killed Carlo was fired by an insurgent".
The Rifleman came to the UK in 2004 from South Africa and worked at a hotel in Exeter, Devon, before joining the Army.
He lived in Cardiff with his girlfriend Rebecca Williams and was a member of 3 Rifles Battle Group.