Plymouth Argyle staff in 'disgraceful situation'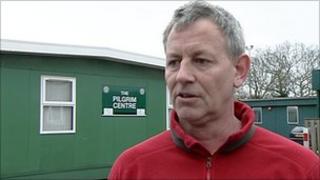 Staff at Plymouth Argyle Football Club have been put in a "disgraceful situation" after being asked to have their wages deferred until April, a union official has said.
The club went into administration earlier this month.
Staff were asked on Thursday to sign new contracts agreeing to defer their wages until the end of April, or risk the club closing.
The club's administrator said he had asked staff to "stick with" him.
Dave Springbett, from the Unite union, told BBC Spotlight: "It's a disgraceful situation to put loyal staff into at a difficult time like this.
"Our solicitors tell me they've never seen an agreement like this in all the time they've been dealing with cases for us.
Staff contracts
"The staff are between a rock, a hard place and another hard place and there's no guarantee they'll get their wages after that."
The administrator, Brendan Guilfoyle, is in talks with two preferred bidders for the League One club, but no agreement has yet been reached.
Mr Guilfoyle said that 14 days into the administration process the administrator legally adopts staff contracts of employment and becomes responsible for paying staff wages.
He said, because no-one had yet agreed to buy the club, he had asked staff to "defer totally" their wages.
He said: "That hasn't gone down very well but I've asked them to stick with me."
The Plymouth Raiders basket ball team has offered to donate up to £5,000 from their final three home games of the season to the Plymouth Argyle staff hardship fund.
The football club employs about 100 staff.