Plymouth Argyle buyers want to develop Home Park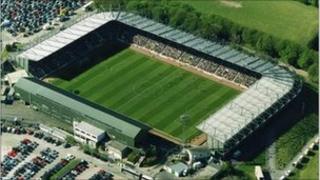 Both parties interested in buying Plymouth Argyle Football Club will develop part of the Home Park site, it has emerged.
The cash-strapped League One club is in administration and a buyer is expected to be revealed on Monday.
Administrator Brendan Gilfoyle told fans on Saturday that both parties wanted to develop the surrounding area to earn income to help run the club.
The ground itself is protected by covenant for playing football.
Mr Gilfoyle said after speaking to fans at the Guildhall in Plymouth that the interested parties were "primarily property companies".
Neither party wanted to be named yet.
He said: "They say they are going to use profits from property and income from property both to provide a stable foundation for the club and an income stream in the future."
He said he believed that the land around the ground would be developed.
Former Leeds and Cardiff chairman Peter Ridsdale, who has been a consultant for the club's directors, told fans that the potential buyers were "focused on assuring that Argyle is properly managed and successful".
The potential buyers are seeking assurances from Mr Gilfoyle on the position of secured creditors so they know the level of debt they are taking on if they buy the club.
Mr Gilfoyle said secured creditors had been given a deadline of 1000 GMT on Monday to state their positions.
If that is acceptable to the buyers, a preferred buyer could be named on Monday or Tuesday.
"Things are delicately poised," said Mr Gilfoyle.
"We are limping along, so the imperative is to secure funding."
He assured fans that because of the restricted covenant on the ground "there will always be football played there".
Earlier this month Plymouth were docked 10 points for entering into administration.