Award for triple amputee former marine from Plymouth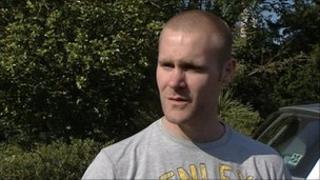 A former Royal Marine from Plymouth has been recognised for his determination to overcome the severe injuries he received while serving in Afghanistan.
Triple amputee Mark Ormrod was presented with the Against All Odds award by BLESMA (the British Limbless Ex Service Men's Association).
Mr Ormrod, 27, recently took part in a 3,500-mile race in the United States to raise money for injured servicemen and women.
He said the award was a "huge honour".
Mr Ormrod lost an arm and both legs below the knee when he was injured serving with 40 Commando in Helmand Province on Christmas Eve in 2007.
He was originally told by doctors he would never walk again.
He was presented with the award at a ceremony in London on Sunday night.
Mr Ormrod, who works as the welfare officer for the Royal Marines Association, told the BBC: "It's overwhelming, it's a huge honour to be recognised for the things that I and all the other injured guys are going through.
"You see a lot on the TV and in the news but you don't see what goes on behind the scenes where it gets quite emotional, and real hard work, and you're pushing yourself and you want to give up."