Plymouth's plans to tackle pothole problem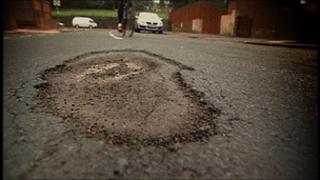 Plymouth City Council may tackle its pothole problem by spending an extra £750,000 on improving the city's roads and pavements.
Last week the council revealed it had received more than 5,000 calls to its pothole phone line between 1 January and 6 March.
The improvement work will involve repairing large sections of road to prevent smaller potholes occurring.
The extra funding will be discussed by the council cabinet on 29 March.
The Conservative-controlled council said the money would come from "reprioritising" the transport budget and additional government funding.
'Harsh weather'
Councillor Kevin Wigens, cabinet member for Transport, said: "We have been working extremely hard to keep the city moving and the roads safe after the impact of the recent harsh winter weather.
"This extra funding will go a long way to help improve the condition of our roads.
"However, this is not about just throwing more money at the problem, we are also tackling future improvements in a different way.
"We are hopeful that people will notice a real difference."
The council said that between 1 January and 6 March, 92% of potholes were fixed within 24 hours of being reported.
It said the majority of potholes were given a temporary repair until more permanent repair work could be done.