Scalloping ban in Cornwall to 'help local fishermen'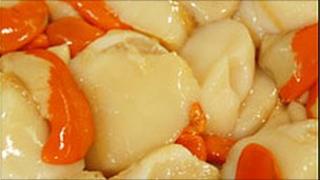 A by-law preventing scallop fishing at certain times close to Cornwall's shore has come into force.
The conservation measure means scallops cannot be fished between 1900 and 0700 within six miles (10km) of the Cornish coast.
The by-law was approved by councillors in 2009 and by Defra in March 2011.
Campaigners for the restriction said it was a sustainable measure that would prevent the stock from becoming depleted.
Former fisherman Tony Tomlinson, leader of Cornwall's Inshore Fisheries and Conservation Authority, will oversee the ban.
Mr Tomlinson said: "The restriction is good because it makes it more sustainable.
"Boats that fish 24 hours a day on the inshore grounds leave [scallop stocks] depleted.
Authority member David Muirhead said the restriction did not go far enough.
"I'd like to see legislation between the six to 12 miles limit preventing large scallop dredgers of 221 kilowatts from fishing inside the 12-mile limit," he said.
He said this restriction would benefit local fishermen and help to conserve the scallops.