Nile Crocodile found dead at Paignton Zoo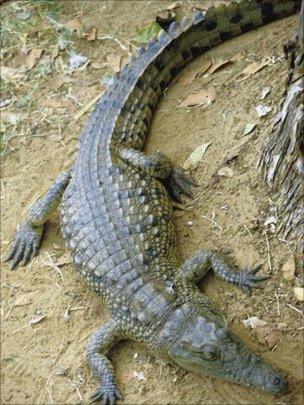 A crocodile has been found dead at a Devon zoo.
Keepers at Paignton Zoo said the 35-year-old Nile crocodile was found dead in its Crocodile Swamp attraction on Wednesday.
It had been acting strangely for several days and had been under observation by staff.
A post-mortem examination on the 3m (10ft) long crocodile, which weighed almost a tonne, will be carried out to try to find out the cause of death.
Nile crocodiles in the wild are thought to reach between 70 and 100 years old.
Mike Bungard, curator of lower vertebrates and invertebrates, said: "Crocodiles are very good at hiding illness and very difficult to diagnose.
"He was seen to be lethargic the other day and he was under observation by our in-house vet team because he was not eating normally, though crocodiles can go for long periods without eating."
The crocodile was one of a pair that came to the zoo near Torquay from Wroclaw Zoo in Poland in 2008.
Related Internet Links
The BBC is not responsible for the content of external sites.