Crew of frigate HMS Campbeltown say farewell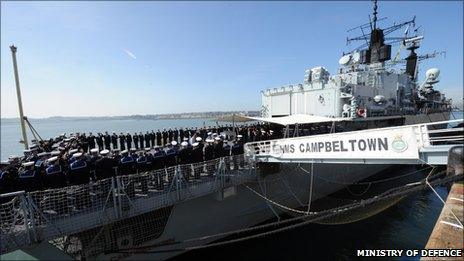 The crew of a Plymouth-based Royal Navy frigate said farewell to the ship as it was decommissioned under defence cuts.
Type 22 frigate HMS Campbeltown held a formal ceremony at Devonport naval base.
Former commanding officers joined the ship's crew to mark its 22 years of service.
The ship's captain, Cdr Keri Harris, toasted his crew with a tot of rum on the ship's flight deck.
He said: "This is a very sad day, but also one of celebration for the life of HMS Campbeltown.
"I can't deny this day is tinged with sadness.
"But the decommissioning of the ship is part of the government's necessary cost-saving measures as it is under stringent financial restraints."
The warship sailed into Devonport for the last time on 31 March.
The decommissioning of HMS Campbeltown follows in the wake of HMS Ark Royal and HMS Chatham.
Devonport-based HMS Cornwall and HMS Cumberland will also be decommissioned when they return from deployment.
Related Internet Links
The BBC is not responsible for the content of external sites.