Dean of Exeter heading to Norfolk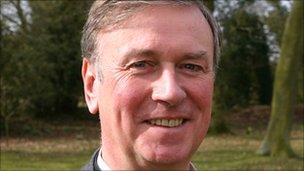 Dean of Exeter, the Very Reverend Jonathan Meyrick, has been unveiled as the next Bishop of Lynn.
The news comes after his nomination was approved by the Queen.
Mr Meyrick, 58, who spent time as Dean of Exeter, succeeds the Right Reverend James Langstaff who is now Bishop of Rochester.
He said he would leave Exeter with a sense of "great sadness and loss" though he was excited by the challenges ahead.
He said: "I shall look back on my time in the Diocese and Cathedral of Exeter with huge affection and gratitude.
"In six short years, Rebecca, the children and I have made many good friends in Exeter and around the county.
"We are of course excited by the challenges and opportunities that lie ahead of us, but we leave with a great sense of sadness and loss as well."
The Bishop of Exeter, the Right Reverend Michael Langrish, said: "Jonathan and Rebecca will be missed greatly because we have valued them so highly.
"As Dean, Jonathan has brought creative and vigorous leadership to the life and work of Exeter Cathedral at a crucial time in its development."
Mr Meyrick trained for ordained ministry at Sarum and Wells Theological College and served his curacy in the Diocese of Oxford, followed by three years as Chaplain to the Bishop of Oxford.
After a spell teaching in Barbados, he returned to Oxford to serve in two rural team ministries before becoming Canon Pastor of Rochester Cathedral.
Since 2005 he has been Dean of Exeter and Priest-in-Charge of Central Exeter.
Mr Meyrick will be consecrated bishop by the Archbishop of Canterbury at Westminster Abbey on 2 June.
Related Internet Links
The BBC is not responsible for the content of external sites.