Antarctic survey vessel HMS Scott returns to Devonport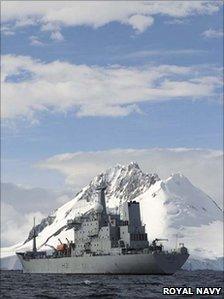 A Royal Navy survey ship has returned to its base in Devon from the Antarctic.
HMS Scott, a hydrographic ocean survey vessel, left Plymouth last November for her second deployment in the region.
The ship has travelled more than 22,500 miles through one of the most austere maritime environments in the world.
Its crew has been inspecting areas of scientific interest and enforcing the environmental protective measures of the Antarctic Treaty.
HMS Scott also used state-of-the art sonar equipment to map the Antarctic Seas to ensure safe passage for cruise ships that now visit the region.
Commanding Officer Cdr George Tabeart said it was a "privileged step change" from HMS Scott's usual work.
"With safety of life paramount in these remote waters, our survey work will ensure that tourists can safely visit the pristine environment and witness the abundance of wildlife," he said.
HMS Scott's deployment to the South Atlantic was in support of the UK's long-term interests in the Antarctic, South Georgia, South Sandwich Islands, and the wider area.
The ship will undergo a short maintenance period at Devonport before returning to her ocean deep survey hydrographic duties.
The vessel, named after the ill-fated explorer Captain Scott, is the fifth largest in the Royal Navy's fleet.
Related Internet Links
The BBC is not responsible for the content of external sites.