Cornwall shop fitting firm owes £1.1m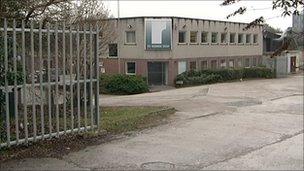 A Cornwall shop fitting company has collapsed, with creditors owed more than £1m.
Saltash-based John Richards Shopfitters, the manufacturing arm of John Richards Group, has gone into voluntary liquidation.
A meeting held by liquidators in Exeter heard 260 creditors were owed a total of £1.1m in sums up to £100,000.
Ten people lost their jobs when the firm collapsed which directors blamed partly on the economic slowdown.
Ian Walker, joint liquidator of the company, said most of the firm's debts had been incurred in the last three to six months.
Director Peter Richards said: "It's a combination of delays in contracts and very poor trading.
"That very rapidly pushed us from a relatively controllable loss to one that ran out of control."
Worcestershire-based furniture maker Richard Chinn, who is owed £13,500, said: "We will bounce back. But it's galling after you have supplied good quality products on time."
Eighteen of the 28 people employed by John Richards Shopfitters, have transferred to the John Richards Group.
Related Internet Links
The BBC is not responsible for the content of external sites.