Turbine parts arrive at Devon wind farm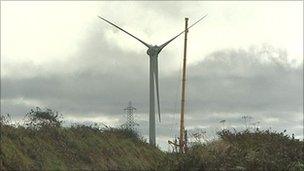 Parts for 22 wind turbines have started to arrive in Devon ready for installation.
Sections of the 110m (360ft) turbines will be transported by lorry from Avonmouth and Immingham to Fullabrook Down near Ilfracombe.
It is anticipated parts for two wind turbines will arrive each week until the end of June.
The company behind the project, Devon Wind Power said they would produce electricity for about 30,000 homes.
The turbines will be assembled and erected on the Fullabrook site and it is expected the first one will be completed later this month.
About 66 convoys carrying a total of 176 loads will be required to deliver the parts of the turbines to the site.
The wind farm will start generating energy in the autumn.
Related Internet Links
The BBC is not responsible for the content of external sites.