Devon canine companion guides blind dog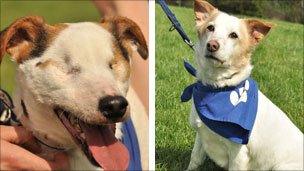 A pair of dogs at a Devon refuge have a special reason for sticking together - one acts as a guide for the other.
Five years ago Jack Russell terrier Zac lost his sight after an infection and now he relies on his friend Lilli to get around.
They were given to the Blue Cross dogs home in Tiverton, Devon by their owner who was emigrating.
Now the pair, who have been companions since they were puppies, are looking for a new home.
The dogs, who came to the refuge on 30 March, lived together in Somerset until their owner emigrated to the USA.
Sarah Bussell of the Blue Cross charity said the dogs had developed a close companionship.
"Lilli has taken a reassuring role in Zac's life and he is definitely more reassured when Lilli is around," she said.
"He can smell and follow her. She is like a natural guide to him.
"Their relationship is about Zac's trust in Lilli. It's really sweet."
The charity is looking for a new home for the pair.
"They are both lovely characters," said Ms Bussell.
"Despite Zac's disability he lives a happy life and with Lilli there someone could find themselves with two really lovely little companions."
Related Internet Links
The BBC is not responsible for the content of external sites.