Ilfracombe crime fears blamed on lights switch off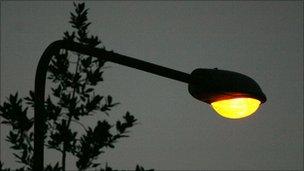 Some residents in a Devon town say they think crime has gone up since street lights were turned off to save money.
Ilfracombe is among 25 towns in Devon to stay dark between 1230 BST and 0530 BST in a six-month trial aimed at saving about £500,000 a year.
Devon County Council said that in many places part-time lighting had actually led to a fall in crime.
Susan Mulcahy, whose house on the Slade estate was the subject of an attempted burglary, blamed the switch off.
Ms Mulcahy said: "I think it's connected with the lighting going off and a lot of other people do.
"It's an opportunistic thing and if people can't see, they'll do what they want."
Tina Edwards, who also lives on the estate, said: "There's a lot of worry that burglaries will increase.
"We've already had a couple of incidents of car windows being smashed."
Supt Phil Kennedy, of Devon and Cornwall Police, said: "We are talking about people's perceptions of crime.
"But there is no evidence that there has been an increase in crime as a result of switching off the lights."
A Devon County Council spokesman said: "Despite some concerns about an increase in night crime, the feedback we are getting from police is that night time crime levels have in fact gone down in areas of part night lighting.
"For example in Exmouth, Devon's second biggest community, crime is reported to have fallen by 11.5%.
"We have also been informed that crime has also reduced in other areas where part-night lighting has been introduced, including East Devon, the South Hams and Torridge."
Related Internet Links
The BBC is not responsible for the content of external sites.