Tavistock police station closing to public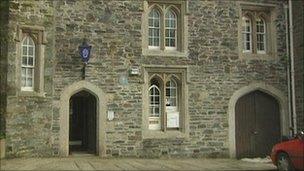 A 160-year-old Devon police station is closing its doors to the public.
Tavistock's inquiry office, due to close on Wednesday, is one of 24 in Devon and 10 in Cornwall being closed by Devon and Cornwall Police.
The force said incidents reported at front desks had decreased dramatically, and that nearly 90% of crime was reported via telephone.
It added that the desk closures were also a reaction to a public consultation and budget requirements.
The force is having to cut its budget of £47m over the next four years.
As well as an increase in phone reporting, the force said people using its website - including via mobile devices - had also increased significantly.
Any individual outside a station in an emergency situation was also dealt with immediately, it added.
Related Internet Links
The BBC is not responsible for the content of external sites.