Exhumed remains of Belinda Day reburied in Devon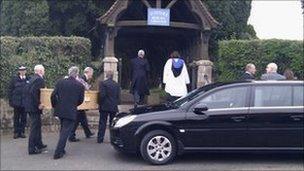 The body of a woman which was exhumed by police in Devon as part of a sex abuse investigation has been reburied.
The body of Belinda Day, 27, was disinterred for DNA evidence, as police believe she was raped and abused before committing suicide in 1989.
She died in Budleigh Salterton and was buried in the town's cemetery, where her remains were returned.
Ms Day may have been one of about 12 victims of abuse by what officers have described as "a handful of men".
The mother-of-three, who grew up in nearby Exmouth and moved to Exeter when she married, was found dead at the bottom of cliffs at Budleigh Salterton on 3 March 1989.
A coroner later recorded a verdict of suicide.
The Reverend Anne Charlton, the vicar of St Peter's Church in Budleigh Salterton, led a private family service to rebury the remains of Ms Day, also known as Binny.
Ms Day's sister, Brenda Berrington, said after the service that the family had been "proud to have been able to assist the police in their investigations".
However, she added that the service and the day was about "my sister, our sister, a young lady who should have had a bright and happy future to look forward to, a future that was denied her".
She said: "Binny did not have a long life, and, 22 years later, we still feel pain over the circumstances of her death. We feel that justice will help us to move on and get some closure.
"It has been a long and difficult time coming and we feel that Binny will finally be allowed to rest in peace."
Police believe that Ms Day was repeatedly raped and abused before she took her own life.
Her brother, Adrian "Tommy" Dance, 54, was jailed for 21 years in 2010 for a string of rapes and sexual assaults.
Dance, of Queen's Road, Budleigh Salterton, admitted 15 sexual offences when he appeared at Exeter Crown Court last June.
Five other charges, which he denied, were dropped.
Devon and Cornwall Police working on Operation Goodrich said they had not yet interviewed Dance in connection with alleged offences against his sister.
Police said the decision to exhume Belinda Day's body was not taken lightly.
But they added that they were "very confident" of making arrests once the DNA samples had been analysed.
Related Internet Links
The BBC is not responsible for the content of external sites.