Former Plymouth head teacher jailed for sex offences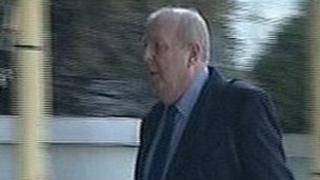 A former primary school head teacher has been sentenced to seven years in prison for sexually assaulting a number of pupils in his care.
Neil Dyer, 71, from Plymouth, was found guilty of 25 counts of sexual assault between 1976 and 1992.
He carried out the abuse while working at Widey Court Primary School in the city.
Dyer, who was known as Geoffrey Burley at the time, was sentenced at Plymouth Crown Court.
His victims included 13 boys and one girl.
During the trial the court heard Dyer had run Widey Court school with a "rod of iron".
'Like a shell'
He worked as a teacher at the school before becoming deputy head and then head teacher.
He abused pupils sent to him for punishment, with assaults taking place in classrooms, at home during private lessons and on school camps.
Dyer's crimes remained undetected for 25 years until his former pupils swapped memories on Facebook and Friends Reunited.
During the sentencing, impact statements from some of Dyer's victims were read out in court.
One male victim said what had happened had "haunted him".
Another said: "I was robbed of the chance to lead a successful life."
Another said: "I feel like a shell" and someone else said: "I can't trust anyone now".
Sentencing Dyer, Judge Paul Darlow said he had shown a "gross breach of trust."
He said: "You showed a casual and callous disregard for your victims' innocence and childhood.
"You committed your crimes for your own sexual gratification. You used the pupils' fear of you to your own advantage."
Dyer has previously served jail terms for theft against the school and motoring offences.