Tavistock church imagines Easter through art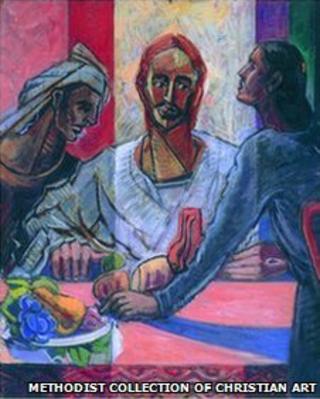 Artworks inspired by the Easter story have gone on display at a Devon church.
Imagining Easter at Saint Eustachius' parish church in Tavistock includes pictures, banners and photographs by national and local artists.
Curator Kit Harbottle said she got the idea for the exhibition at a recent conference promoting the use of art in churches.
She said: "It was about using our spaces to tell the story of God.
"The phrase struck me and kept going round in my mind."
Kit approached national organisations including the Methodist Church National Art Collection, which lent six works.
She also asked local artists to contribute.
Some pieces such as a textile artwork by Tavistock artist Maggi Squire were created especially for the exhibition.
It also features some of Exeter artist Brian Turner's biblical scenes, painted as part of his 30-year project to paint the whole Bible.
And a crucifixion by Callington minister David Stolton juxtaposes a 17th Century crown of thorns with modern images of war and terror.
Mrs Harbottle said the painting The Supper at Emmaus by Roy De Maistre had particularly been "intriguing people".
She said: "We want to remind people that Easter isn't just chocolate and rabbits.
"This is the original story. We wanted to let people encounter it and engage with it.
"Images can be more helpful than words are."
The exhibition, organised by Tavistock Area Christians Together, is taking place as part of Tavistock's Music and Art festival and runs until Easter Sunday.