Road works 'devastating' for businesses in Plymouth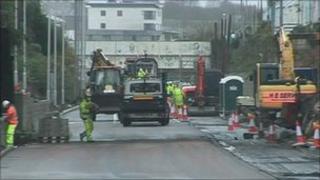 Plymouth businesses affected by eight months of road works on the Barbican and up to 18 months on Gydnia Way say impact on trade has been devastating.
Some shop owners told BBC News they had seen a 30% drop in trade and turnover had reduced by £100,000 a year.
Plymouth City Council said the work was essential and it was trying to encourage people to use the businesses.
Repairs company Wales and West Utilities said a compensation scheme was available.
Clive Way, who runs a tackle and bait shop on Exeter Street, said the road works had affected his business for the last 18 months.
"Turnover has dropped by £100,000 a year. It's impossible to stay open at the moment. People just won't come into the city centre."
Steven Williams, who owns the Hash Browns Cafe on Exeter Street, said: "I'm losing £1,000 a week because of the roadworks.
"Regulars aren't coming here because of the congestion caused by the roadworks.
"I have to take each day as it comes."
'Literally devastating'
Tim Jones from the Devon and Cornwall Business Council said: "The effect on small businesses is literally devastating."
Wales and West Utilities said small businesses could apply for compensation, but any financial loss from the roadworks had to be demonstrated.
The company added that the works were essential, and they were doing all they could to reduce the impact.
A Plymouth City Council spokesperson said: "There is no good time to close roads, especially around the Barbican, Hoe and city centre.
"Wales and West told us there are gas mains pipes in the area which must be replaced as a high priority.
"We understand it would be unsafe and impractical to undertake this work at night due to low light levels and the noise associated," they added.
The council said the company was also repairing pipes that were scheduled for replacement over the next five years, which would reduce further disruption to the area.
It added that Wales and West were using "keyhole technology", which was quicker and less disruptive than the normal process.
The authority said the work was essential and it had erected signs to tell people that the shops were open as usual.