Lavish life cocaine gang found guilty in Exeter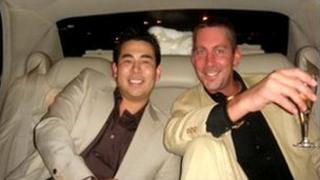 A gang which funded a lavish lifestyle by supplying cocaine throughout the UK has been found guilty of drugs offences.
The six men were convicted at Exeter Crown Court of conspiracy to supply cocaine.
Two of them also pleaded guilty to possessing firearms.
The investigation into the gang started in 2009 when police found cocaine worth about £250,000 in a car at Cullompton Services, Devon.
Timothy Eastgate, 31, from Norfolk, led the gang along with his deputy Paul Flisher, 38, from Essex.
Police found evidence of their lavish lifestyle, including homes abroad, a yacht and cars including Ferraris and Lamborghinis.
Sean Battle, 42, from Plymouth, led the operation in Devon.
Stephen Proctor, 39, also from Plymouth, James Wright, 28, from London and Christopher Leader, 54, from Romford, were couriers - delivering drugs and picking up cash.
The six men showed no emotion as the verdicts were returned.
The judge, Phillip Wassall, adjourned sentencing but warned the men they faced "substantial" prison terms.