'Sadist' Plymouth gang leader has sentence cut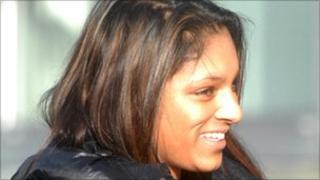 A teenager who led a gang attack on a 17-year-old girl on Plymouth Hoe has had her sentence cut on appeal.
Sabrina Barber, 16, from Plymouth, was jailed for five years at Plymouth Crown Court in January.
She admitted causing grievous bodily harm with intent to Naomi Morrison, a trainee nursery worker.
A judge at the Appeal Court in London cut her sentence from five to four years, saying five years was too long for someone of Barber's age.
During the attack in December 2009, Barber, who was high on mephedrone, "toyed with her victim", standing on her face and forcing her to head-butt an iron bench.
Judge Francis Gilbert said she had displayed an "appalling" level of sadism.
Mrs Justice Rafferty, sitting in the Appeal Court, said Judge Gilbert had been "right to describe the assault in the terms he did" and to find that Barber was dangerous.
However, she said the five-year sentence was too long for someone of Barber's age.
Barber also received a five-year extended licence period at the crown court, meaning she could be recalled to prison after release if she offended again.
The Appeal Court substituted a three-year licence term.