Devon canine companions find new home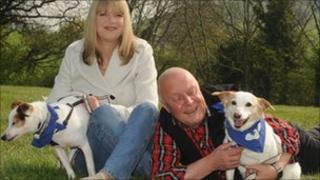 A blind dog and his guide dog companion have been found a new home after an appeal by a Devon refuge.
Jack Russell terriers Zak and Lily were given to the Blue Cross dogs home in Tiverton by their owner who was emigrating.
Lily acts as a guide dog for Zak, who was blinded by an infection five years ago.
Now Steve and Elaine Pickering from Littleborough, Greater Manchester, have taken on the pair.
Mrs Pickering said: "When Steve showed me the picture of Zak and Lily in the paper my heart just melted.
"We were really worried that someone else would have already snapped them up so we phoned up The Blue Cross as soon as possible the next morning.
"We were overjoyed when they chose us to take them home, I was in love with them before we even met them."
'Real little characters'
The dogs, who came to the refuge on 30 March, lived together in Somerset until their owner emigrated to the United States.
The refuge said it had received more than 200 calls from prospective owners since the appeal nearly two weeks ago.
Mr Pickering said: "Zak and Lily are even more wonderful than we expected, real little characters.
"It's lovely to see the bond between them, the way that Zak nudges Lily for reassurance.
"We just can't wait to take them home and make them part of the family."