Plymouth blitz deaths remembered at ceremony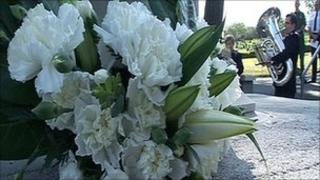 Civilians who lost their lives during the blitz have been remembered at a rededication ceremony in Plymouth.
The service at Efford Cemetery remembered those who died during night raids in March and April 1941.
More than 3,000 homes were destroyed by bombs and incendiary devices dropped during World War II.
The cemetery memorial commemorates 1,174 civilians who died in the city and was refurbished in February at a cost of £15,000.
The English Heritage and the Wolfson Foundation provided the funding for the refurbishment.
A communal grave close to the memorial was where almost 400 people were buried.
The Lord Mayor of Plymouth and the leader of Plymouth City Council were there to honour those who died.
The service was led by Reverend Nick McKinnel, Rector of St Andrews Church, together with representatives from the Salvation Army.