Woman's body discovered in lake in Cornwall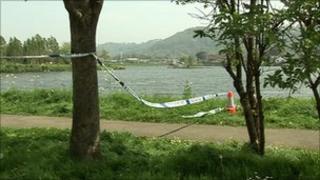 The body of a 47-year-old woman has been discovered in a lake in Cornwall.
A dog walker raised the alarm in the village of Millbrook, near Torpoint, after the body was spotted at about 0800 BST on Friday.
Police cordoned off the area, recovered the body with the assistance of coastguards and began an investigation.
Police said that they were yet to formally identify the body, but that it was believed to be a local woman and there were no suspicious circumstances.
'Not used'
Sgt John Frazer, of Devon and Cornwall Police, said local inquires had discovered that the woman had been seen in some pubs in the village the night before, and that they were appealing for witnesses.
He said: "We are open-minded as to how she came to be in the water."
Ron Fry, chairman of the Plymouth Model Boat Club, said the lake was "several hundred metres square" and had been an estuary, but was now blocked off with a sluice gate.
He said the only access to the water in Millbrook Lake was at Stone Quay, where his group met once a month.
He said: "It's not really used for anything, other than the boats. It's quite a busy walk-through though, with dog-walkers and so on going past."
There were footpaths on either side of the lake, with a main road running past the water as well, he added.
Millbrook is a rural village with a population of more than 2,000. It lies on the Rame Peninsula, opposite Plymouth, Devon, and has been designated an Area of Outstanding Natural Beauty.