Warnings after litter dumped on Dartmoor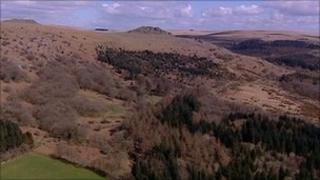 Landowners on Dartmoor may close off sections of the national park to the public if there are continual problems with litter, national park rangers say.
Items found recently included bottles, barbecues and food.
The Spitchwick area, near Ashburton, had been particularly affected after an increased number of visitors during recent good weather, rangers added.
Of the 88,525 acres of common land on Dartmoor, there are 92 separate common areas with some 54 different owners.
Ranger Bill Allen said: "If you came down and you saw this abuse - there's no other word for it - I would certainly be thinking about closing the car parks.
"I certainly don't want to do that and don't want to see that happen, but it must be a temptation and it's my job to ensure that doesn't happen."
The rangers work as the eyes and ears of the national park authority. Their duties include monitoring erosion and clearing up litter.
They also negotiate with landowners over public rights of way.