Pig attacks boy, 13, at Cofton Holiday Park in Devon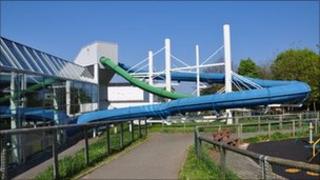 A 13-year-old boy was attacked by a pig at a holiday park in Devon, suffering a bite on his arm.
Jordan Stock, from Pontypridd, south Wales, suffered the injury at Cofton Holiday Park at Teignbridge.
Park owner Chris Jefferey said it was the latest in a series of attacks on people by pigs roaming in the area.
Devon and Cornwall Police officers said they were not investigating, as there was no criminal legislation covering attacks by pigs.
'Property damaged'
Jordan told BBC News he had been walking in woods at the park when the attack happened.
"It just came at me. I fell on the ground and tried to fend it off with my arm, but it bit me," he said.
"I was shaking afterwards, it was such a surprise."
He said he thought that the sow had been defending her piglets.
Jordan did not require treatment for the injuries, but he is bruised.
Police confirmed the attack on 16 April.
A spokesman said: "The only legislation that applies to attacks on humans by animals is the Dangerous Dogs Act and that does not apply to pigs."
'Wild boar strain'
Mr Jefferey said that pigs had been attacking people in the area for the past two years.
"These pigs have been damaging the property of many residents at Cockwood by breaking in and turning gardens and fields upside down.
"These pigs are of wild boar strain and should be licensed according to the Dangerous Wild Animals Act 1976 as a hybrid of the wild boar."
It is not known who owns the pig.
Mr Jefferey has asked environmental health officials at Teignbridge District Council to step in.
No-one from the council was available for comment.