Roads reopen in Salcombe after waterside property fire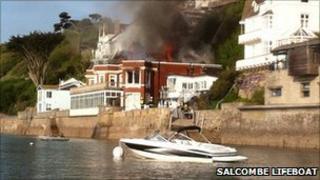 Roads into a south Devon resort, which were closed following a fire at a waterside property, have reopened.
The cause of the fire at Salcombe Court in Cliff Road, Salcombe, is being investigated.
The blaze broke out on Sunday morning and the property, which is made from wood and had recently been refurbished, was evacuated.
Firefighters used water from the sea and a swimming pool to get the fire under control.