South Devon steam train in emergency stop to save lamb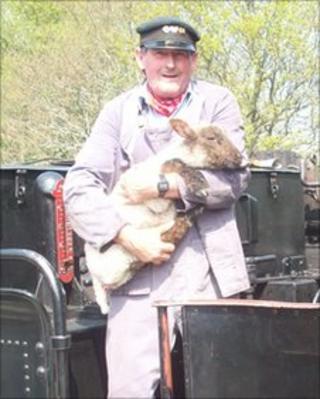 A steam train crew in Devon has had to make an emergency stop to avoid hitting a sick lamb on the track.
The animal was spotted lying between the rails by the driver and fireman on board the South Devon Railway locomotive on Sunday.
The tourist train was travelling from Buckfastleigh to Totnes when it was brought to a "rapid halt".
The lamb, who has been named "Lucky", was rescued and is currently being cared for at Totnes Rare Breeds Farm.
Dick Wood, general manager of the South Devon Railway Trust, was on the train at the time of the incident.
He said: "The crew spotted the animal near Woodville by the River Dart and brought the 11.40 train from Buckfastleigh to a rapid halt.
"I looked out to see the crew climb down from their engine and gently lift the tired and dishevelled looking animal up on to the footplate where it was looked after until arriving at Totnes a few minutes later."
Mr Wood said it was believed the lamb had escaped from a neighbouring field and got lost on the railway after becoming separated from its mother.
Last year 112,000 passengers travelled on the South Devon Railway, the highest number of people in the organisation's 19-year history.