Row over Plymouth short-stay parking cut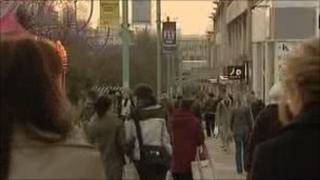 Traders in part of Plymouth have said new charges in some car parks which only allow a minimum stay of two hours are discouraging shoppers.
Businesses in the Frankfort Gate area of the city centre said it had put off shoppers from that end of town.
The minimum two-hour stays mean the cheapest ticket is £2.20.
Plymouth City Council said the charges were still good value compared to other cities and good for business because people were staying for longer.
Country town visitors
Mayflower West, Mayflower East, Derry's Cross, North Hill, Plymouth Pavilions and Elphinstone car parks are affected by the minimum two-hour change.
Ken Mason, who runs a stall in the city's pannier market, said the council should "just get off the motorists' back".
He said: "If they want to stop for just an hour in Mayflower Street, then it should be just for an hour."
Some traders said they were also worried that the cost could put off regular visitors from countryside towns, such as Kingsbridge or Modbury.
There were still nine short-stay car parks within the city where shoppers could stay and pay for one hour, the council said.
However, their charges have increased from £1 an hour to £1.20.
The council said the changes allowed "a clearer distinction better short and long stay car parks".
It said: "They encourage longer stay parking and help boost the local economy through the introduction of the reduced long stay tariffs.
"This also makes it easier for customers to see which car parks best meet their needs."