Hooligans targeted at Devon football match by police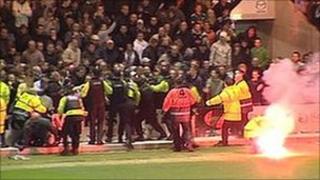 About 400 police officers are mounting an operation to target football hooligans at a match in Devon.
Police are drafting in mounted officers from south Wales for Saturday's end of season local derby between Exeter City and Plymouth Argyle at St James Park.
The force said the match had the highest risk rating for a football game and warned hooligans that they would be dealt with quickly and firmly.
The teams met in November at Home Park, where at least 20 people were arrested.
Devon and Cornwall Police Ch Insp Peter Coppin-Harris, said: "We know the vast majority of those coming to the game are genuine supporters.
"If there's a minority that are intent on disruption then this will not be tolerated, they'll be dealt with quickly and firmly and those caught face a lengthy football banning order."
Exeter City chief executive Julian Tagg said: "We want a safe game in a safe environment and our fans can help make this possible by co-operating with requests from stewards and police before, during and after the match."