Hundreds join Exeter anti-cuts protest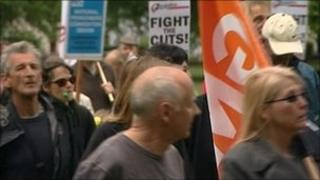 More than 200 people have gathered in Exeter in a protest against cuts in public services.
Demonstrators met in Belmont Park before setting off on a march around the city centre, chanting and waving placards.
The demonstration was followed by a question and answer session for local government election candidates and a rock concert.
The coalition government says cuts are vital to tackle the UK budget deficit.
Spending by Devon County Council is being cut by £54.6m in the next financial year in response to the Spending Review.
The Conservative-controlled council, which has a total budget of £865m, said in 2010 that 900 jobs would be axed.