Plymouth bar death woman 'died of shock at fight'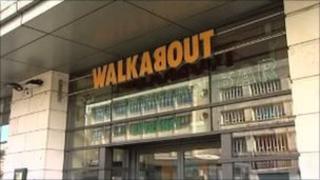 A woman's death during a night out in Plymouth may have been triggered by the shock of seeing her boyfriend attacked in a bar, an inquest has heard.
Kirsty Thompson, 22, collapsed in the Walkabout bar in Union Street in April 2010.
The Plymouth hearing was told she died from sudden adult death syndrome, which could be caused by a stressful event.
Plymouth deputy coroner Andrew Cox recorded a verdict of death by natural causes.
Ms Thompson collapsed in the arms of her boyfriend, Marc Couzens, moments after he and another friend were subjected to an "unprovoked attack" just feet in front of her on the night of 4 April.
Four hundred people were in the bar at the time, the inquest heard.
'Collapsed like doll'
The hearing was told her death was caused by an undiagnosed case of the heart disease long QT syndrome, which is triggered by emotional situations or physical activity.
Pathologist Russell Delaney told the inquest: "[The disease] can be brought on by stressful events. Sometimes the first people know about it is when someone dies from the syndrome."
Tests have since shown that other members of her family also have the disease.
The inquest heard that Diane Lindsey-Swaffield, a nurse on a hen night, gave Kirsty first aid alongside Mr Couzens.
She told the inquest Ms Thompson collapsed "like a rag doll".
By the time paramedics arrived at the pub, Ms Thompson was comatose and was pronounced dead on arrival at Derriford Hospital.
First aid training
The coroner said: "Kirsty was not involved in the fight but she was in close proximity to it. Almost immediately afterwards she collapsed and could not be resuscitated."
Mr Cox said he would write to the pub firm's chief executive, requesting that it gave staff first aid training and other medical training, such as how to use a defibrillator.
Witnesses told the inquest that the venue's music was still playing after her collapse and lights were not turned up until paramedics arrived.
After the inquest, Walkabout said the events were "incredibly sad", that it was expressing its sincere condolences to Ms Thompson's family and that it would "do our very best to implement the [coroner's] recommendations".
The company added: "Paramedics were immediately called and staff were with Kirsty until they arrived.
"Neither our staff nor the paramedics were immediately aware of the seriousness of her condition. But as soon as this became apparent, the lights were turned up and music turned off.
"Normally we would also have evacuated the premises, but the police wouldn't let us as they wanted to keep witnesses in the venue.
"We have, however, taken on board everything that the coroner has said."