Sidmouth Donkey Sanctuary founder dies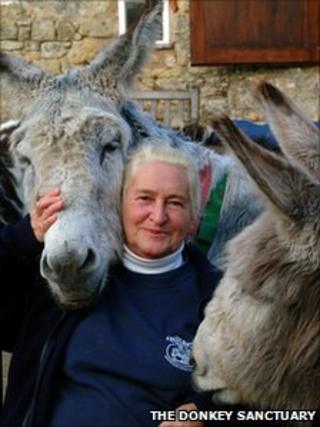 The founder of Sidmouth Donkey Sanctuary, Dr Elisabeth Svendsen, has died at the age of 81.
Since the animal charity began in east Devon in 1969, it has helped more than 14,500 donkeys and mules in the UK and abroad.
Dr Svendsen suffered a stroke and died on Wednesday with her family at her bedside.
The charity said her death would be felt deeply by staff and supporters all over the world.
Dr Svendsen founded the sanctuary after finding seven neglected donkeys in a small pen at Exeter market.
Riding therapy
Not content with rescuing animals in the UK, she developed the charity's work overseas, to help donkeys working in "desperate conditions" in some of the most impoverished communities in the world.
There are currently 5,000 donkeys and mules being cared for permanently by the sanctuary in the UK, Ireland and Europe, but the charity also rescues donkeys all over the world.
Locally, it has seven centres in Devon and Dorset.
Dr Svendsen also founded The Elisabeth Svendsen Trust for Children and Donkeys in the UK, to provide riding therapy with donkeys for children with special needs and disabilities.
She became an MBE in 1980 and was honoured by the RSPCA in 2001 with the Lord Erskine Award for her contribution to the field of animal welfare.
The Donkey Sanctuary said Dr Svendsen was "loved dearly" by not only her staff, but supporters all over the world.
A statement said her son and granddaughter would continue to be involved with the sanctuary's work.
"The charity that Dr Svensden built from nothing to the international organisation it is today, will continue its work in her memory, holding fast to her vision of a world in which every donkey and mule receives the care and respect it so needs," the statement added.
The Donkey Sanctuary is responsible for a "beauty competition with a difference" which finds the best beach donkeys and awards owners for high standards in animal welfare.
The annual competition also includes an award for the donkey with the best trimmed feet.