Four rescued after British yacht sinks off Morocco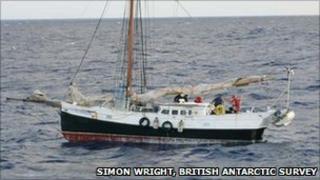 Four people have been rescued after their British-registered yacht sank off the coast of Morocco.
The Ex-Africa went down just before 2130 BST on Sunday after suffering engine failure and taking on water, Falmouth Coastguard said.
The Cornish coastguard station helped co-ordinate the rescue.
The four were picked up by the British Antarctic Survey Ship, the James Clark Ross, which is now en-route to Portland in Dorset.
The yacht was sailing near Cape Verde off west Africa when it sustained damage to its propeller and rigging.
The James Clark Ross was returning to the UK from scientific work in Antarctica.
It was alerted by the Moroccan coastguard that a yacht required rescue and arrived six hours later.
The Ex-Africa sank within about nine hours.
The three British and one South African crew members were safe and well, the British Antarctic Survey said.
The rescued crew is expected to arrive in Portland on about 24 May.