RNLI warning over Torquay sea temperatures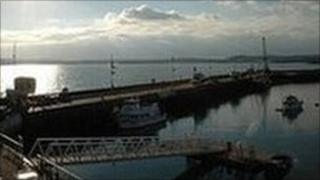 Members of the public have been warned about cold sea temperatures after a man was taken to hospital in Devon suffering from hypothermia.
The man had jumped into the water from the shore in Torquay at about 1900 BST yesterday to retrieve a jet ski.
The jet ski rider, who had earlier got into difficulties, was rescued by the Torbay lifeboat.
Colin Bower, from Torbay Lifeboat, said the man was "not properly prepared" for water temperatures of about 12C (54F).
Mr Bower said: "Jet skiers generally wear dry suits, this guy just stripped off and jumped in to retrieve the jet ski and then got himself into difficulties.
"He himself became the greater casualty."
The man was picked up by a fishing boat before being taken to hospital.