Devon's M5 Junction 29 works begin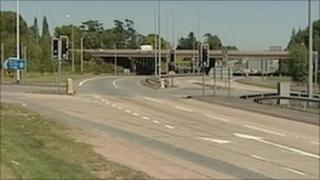 Work has started on the £11m revamp of a motorway junction on the M5 near Exeter in Devon.
The project, on junction 29, is the beginning of a package of works to allow access to new industrial estates and science parks, and a new town.
The Highways Agency warned construction traffic could have a "major adverse" impact during the scheme, due to be completed in summer 2012.
Devon County Council said changes were key to the county's economic future.
The new roads will lead to the new Exeter Science Park and 107-acre Skypark industrial estate, plus 3,500 new homes at Cranbrook.
The Highways Agency, which worked with the county council to design the improvements, said in an environmental assessment report that the "construction of the scheme, and the associated traffic management proposals, are unlikely to cause any significant delay to the travelling public, to local residents, to the local workforce, or to local retailers".
But it added: "Increases in construction traffic and their effects on vehicle users are anticipated to have a major adverse affect, particularly if disruptive construction programmes affecting the same areas of the road network overlap."
It added that the junction works would improve access to the new developments and improve road safety once completed.
Skypark and Exeter Science Park could create 10,000 jobs says Devon County Council.
Ian Harrison, Devon council's deputy director of environment, said there was a new pedestrian and cycle bridge over the M5 as part of the development and Cranbrook would have a new railway station.
He said: "We are very keen to support sustainable transport and offer alternatives to the car.
"Junction 29 was built as part of the new A30 about 10 years ago and it had enough capacity to deal with the amount of traffic that was expected then.
"Since then we have had significant expansion in Exeter and we are poised for further developments which will bring further jobs to the area.
"We need to make sure those developments can work properly."