Plymouth Pc's assault caught on colleague's bodycam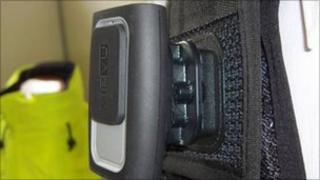 A policeman in Devon has been convicted of common assault after being filmed attacking a prisoner on a colleague's body camera.
In the footage, Pc Roderick Wood, 46, from Plymouth, is seen banging the man's head against the roof of a police car.
The attack took place in the St Budeaux area of Plymouth last May.
Exeter Magistrate's Court gave Wood a 12 month conditional discharge and ordered him to pay £800 costs.
During the trial the court was shown footage from the bodycam worn by a female colleague of the officer.
The two police officers had been called to a disorder incident and had arrested and handcuffed a man for suspected breach of the peace.
'Loss of control'
In the footage Wood is shown ramming the prisoner's head against the police car several times and shouting at him to "show some respect".
The father-of-three was also heard asking the suspect "do you want some more?".
Prosecutor Karen Ball told the court the camera evidence was "potent and compelling".
Wood claimed that he thought the suspect, who was shorter than him, may have tried to headbutt him.
The victim was subsequently not charged with any offence.
'Career destroying'
Defence barrister David Sapiecha said Wood had an unblemished record and had been given a bravery commendation for tackling a knifeman.
He said the assault was "two seconds of loss of control" in a career of "difficult, trying, stressful physical situations assisting the public".
He also said the conviction was "life changing and career destroying" and had brought "shame, embarrassment and upset" upon the officer.
Wood, who has been a policeman for 18 years, will face a gross misconduct hearing before police chiefs next month.
Sentencing him, the magistrates urged Devon and Cornwall Police not to sack him.
They said: "We have viewed the incident and heard all the evidence and consider the assault to have been two seconds momentary lapse in your professional standards and which resulted in no injury to the prisoner."
"We feel that if the police force can allow you to continue in your role it may be of benefit to the force."
A Devon and Cornwall police spokesman said: "The force is in the process of instigating gross misconduct proceedings against the officer. He remains suspended from duty."
Police in Plymouth began trialling the use of body cameras in 2007.
The wireless, shoulder-mounted cameras beam back live images to a control centre in the city.
The system was intended for policing football matches and busy city centre areas.