Marines from 30 Commando seize Afghanistan explosives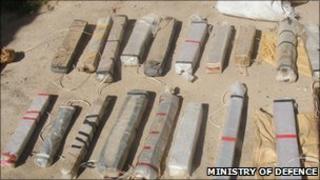 Devon-based Royal Marines have seized a "substantial" amount of explosives and other bomb-making equipment in Afghanistan.
Afghan soldiers supported by The Brigade Reconnaissance Force (BRF) from 30 Commando discovered the weapons in the Zumbalay area of Helmand.
It followed a series of daylight raids on suspected insurgent compounds.
Items seized included 40kg of explosives, as well as pressure plates, batteries, charges and detonators.
The Ministry of Defence said that intelligence reports suggested insurgent commanders were operating in the area.
'Great result'
Sgt John Phillips Royal Marines said: "The intelligence for the operations turned out to be accurate.
"However, we didn't expect to find as many IED components and weapons as we did.
"It's a great result and a great feeling for all the lads involved knowing that a substantial amount of IEDs have been seized which cannot now be employed against ISAF."
Four people suspected of involvement in insurgent activity were detained.
The BRF includes Royal Marines from Plymouth, soldiers from 24 Commando Regiment in north Devon and Royal Engineers from 29 Commando Regiment in Plymouth.
They also include Royal Artillery and 9th 12th Lancers and Royal Military Police.