Devon amputee girl Lydia Cross wins £1.78m payout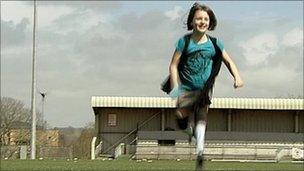 A 10-year-old north Devon girl who lost both her legs after contracting a form of meningitis has won a £1.78m pay-out.
Lydia Cross's parents called their doctor in Wiltshire when she fell ill with septicaemia eight years ago.
Jodie and Tony Cross sued the GP, claiming the disease could have been cured if he had made a house visit rather than giving advice on the phone.
Dr Harrison apologised and said in a statement that he "could have done more" for Lydia.
The compensation, agreed at the High Court in London, will be placed in a trust and used to give Lydia prosthetic legs for the rest of her life.
When Lydia fell ill in 2003 her mother Jodie called Dr John Harrison's Malmesbury surgery to be told that they could not have a home visit because it was against surgery policy.
Dr Harrison told Mrs Cross that he thought Lydia only had a virus, but after the sickness persisted was given an emergency appointment with her GP, six hours later.
A final judgement on the compensation has been made by the High Court which means that Dr Harrison will pay 85% of Lydia's care costs.
It is estimated that each new set of legs for Lydia will cost £15,500.
Lydia, from Braunton, still requires regular treatment on her legs and the prosthetic limbs have to be recast as she grows.
Mrs Cross, 41, said: "It's a huge weight off our minds.
"Lydia will now have the legs she deserves for the rest of her life.
"I hope that they will help her lead as normal life as possible."
Thanks to the prosthetic limbs, Lydia was recently taking part in her schools sports day.
"She was even in the sack race and jumping through hoops," said Mrs Cross.
"We'd like to get a special pair made so we can take her skiing."
A statement from the Medical Protection Society, which represented Dr Harrison, stated: "Dr Harrison would again like to apologise to Lydia and her family for the very difficult time they have had to endure since 2003.
"Although he felt that he did his best for Lydia at the time, he has since recognised that he could have done more for her.
"He hopes that the settlement will help towards Lydia's care now and in the future."
NHS Wiltshire said: "This tragic incident, which occurred in 2003, was one which should not have happened and which resulted in serious implications for everyone concerned. We wish the patient all the very best for the future."
Related Internet Links
The BBC is not responsible for the content of external sites.